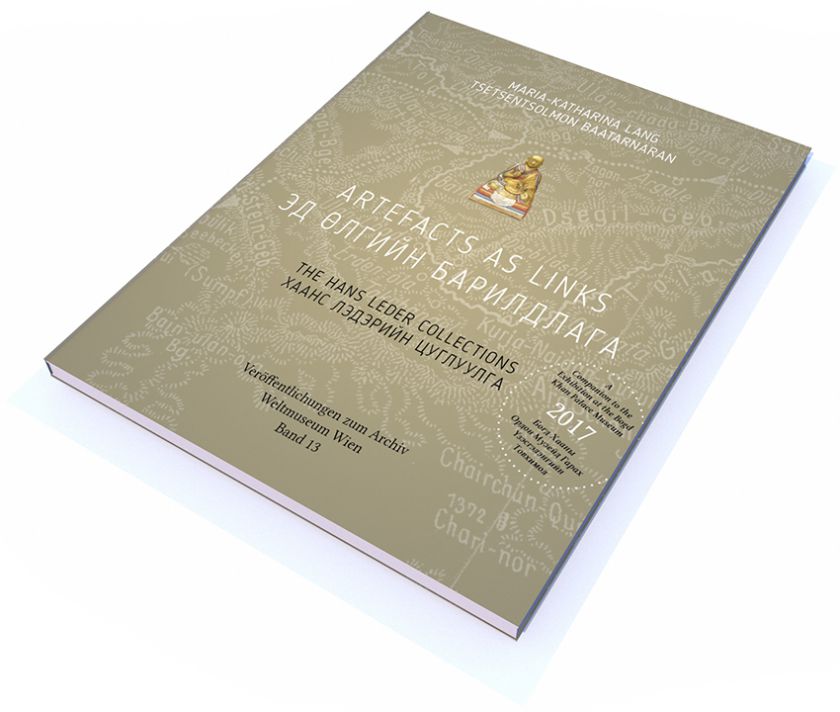 Lang, Maria-Katharina, Tsetsentsolmon Baatarnaran (ed.) 2017
Artefacts As Links
The Hans Leder Collections

Compagnion to the exhibition in the Bogd Khan Palace Museum, 2017
Paperback, 18,2 x 15 cm, 116 pages
Veröffentlichungen zum Archiv. Weltmuseum Wien, Band 13
One main aim of the research on Hans Leder and his ethnographic collections was to establish a first documentation and general view of the collections as a whole. In this way, once divided object groups were reunited in a publication, virtually on a database and homepage, and in museum exhibitions. Furthermore, Leder's historic route was retraced through field research and the places he visited were compared with their present state. Along the road, objects served as a linkage between memories of the past and present practices, the often intertwined movements of artefacts were made visible.
Hans Leder's collections of Mongolian ethnographic artefacts are tangible evidence that enables us to establish a direct link to the past. History, beliefs and individual lives are encoded within these items, which have the capacity to bridge times, borders and spaces.
With contributions by Maria-Katharina Lang and Baatarnarany Tsetsentsolmon. Graphic layout: Johannes Heuer.